Faculty and Staff Leadership Network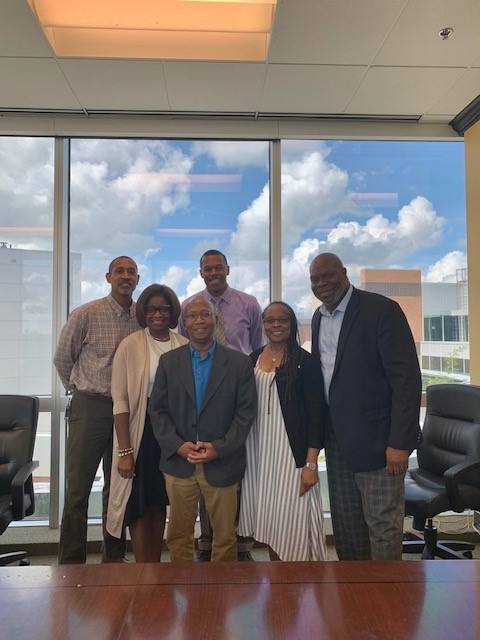 A network of professionals who are committed to serving and lifting others who aspire to transition to leadership positions or aspire to take their career to another level.
Coaching for Success
Mentoring for Empowerment
Acquiring Cultural Capital
Networking to build community

mentoring
sponsorship
networking
Purpose
Implement a professional coaching network that serves to advance African American faculty and staff members who aspire to achieve greatness as defined by themselves and to transition into a new arena of purpose and or into a defined leadership role.
Audience
Emerging Leaders or current leaders who desire to go to the next level
Tenured Track Faculty
Faculty Leaders
Coaching
A professional coach guides individual in their planning, managing, and development of career goals that lead to career and professional success.
The coach is expected to

provide professional guidance, that enables an individual to plan, manage and to extend their horizon beyond what they perceive to be unimaginable or unattainable.
partner with an individual to help unpack career and professional needs, wants, goals….

The coach must have

o a keen skill for listening
o exceptional problem-solving abilities
o and commit to confidentiality

Problem solving skills are acquired over an extended period of time, and requires lived experience in various contexts (e.g. administrator, faculty leader, staff leader, tenured faculty).
Logistics
When: Fall Semester 2021
Number of Participants: 3 to 5
RFP (Request for Proposals) or identify an inaugural group
Virtual Leadership Network – ZOOMing to Successful Realization of Assets and Acquisition of Cultural Capital
Responsibilities
Individuals participating in the network must commit to the following and be willing to complete assignments and or activities that enable effective engagement and collegial exchange.
Time Commitment
Carve out 1 hour every three weeks – negotiated between the Coach and Protégé.
Needs Assessment
What Matters to you?
What's important – Career – Personal- Professional?
What in life do you feel might compromise you, your, values, your integrity?
As professionals, most of our time is spent pushing out – rather than opportunities for intake (self-preservation, self-help)
Before Engaging
Know yourself
Know your assets
Know your value added
Know your feelings – about your current state, past and future
What Else?
Are you willing to be honest and transparent in your thoughts your feelings and your aspirations, regardless of how big or small you perceive the goal to be….
Keep in mind the result of the coaching experience belongs to you. Believe it or not, after a couple sessions the relationship becomes reciprocal – there is a mutual benefit.
What's Next for You?
What do you want to do next? This is not critical, but is necessary to help inform the coaching process. It also allows for the coached to know and understand their capital – assets and potential contributions. Oftentimes someone looking in can see what the protege has not been able to see.
Where you want to be is not limited to placement in a lateral or hierarchical position. The protege may determine the need to hone in on addition skills that they have been unable to acquire due to a host of challenges and or inhibitors.
Functions
Career Functions
Sponsorship –Include the protégé in professional career networks that will advance their career; nominate the protégé for projects, lateral moves, promotions, and other opportunities that align with their skill set.
Coaching – Teaching 'the ropes" and giving relevant positive and negative feedback to improve the protege's performance and potential.
Protection – Providing support in different situations, taking responsibility for mistakes that were outside the protégé's control, and acting as a buffer when necessary.
Exposure – Creating opportunities for the protégé to demonstrate their ability to where it counts and taking the protégé to important meetings that will enhance his/her visibility – exposure to future opportunities.
Challenging work – Delegating assignments that stretch the protégé's knowledge and skills in order to simulate growth and preparation to move ahead
Psychosocial Functions
Counseling – Providing a helpful and confidential forum for exploring personal and professional dilemmas and exhibiting: excellent.
Acceptance and Confirmation – Providing ongoing support, respect, and admiration, which strengthen self-confidence and self-image.
Friendship – Exhibiting mutual caring and intimacy that extends beyond the requirements of dally work tasks and the sharing of experience outside the immediate work setting.